Okay. So I just finished watching a TV series called
Jekyll
which first aired on BBC in 2007.
If you're looking for something interesting to watch, you should definitely try it! It was fantastic! It was created by Steven Moffat who also create one of my other favorite shows
Sherlock
and is also the current head writer for
Doctor Who
.
Similar to concept of
Sherlock
, Moffat set the plot of Robert Louis Stevenson's "The Strange Case of Dr. Jekyll and Mr. Hyde" in present day. James Nesbitt plays the "Jekyll" character. Look familiar?
Well, if you've seen The Hobbit: An Unexpected Journey then you might recognize him as Bofur the dwarf.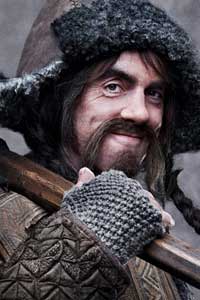 Now you're probably curious as to whether or not good-guy Bofur can pull off iconic duality of Jekyll and Hyde. Let me tell you, James Nesbitt can! He is fantastic. It's amazing how well he shifts between the two characters and makes you terrified of Hyde while extremely sympathetic to Jekyll. He does a spectacular job. I cannot praise his performance in this show enough. I can't wait to see Nesbitt in other roles. He truly is an amazing actor.
Overall, Moffat really did a fantastic job with this series. If you are familiar with either his work on
Sherlock
or
Doctor Who
, I would say that plot-wise,
Jekyll
is a lot more like
Sherlock
and his earlier two-part episodes of
Doctor Who
(not his stuff as head writer- honestly I don't think he does nearly as good a job as Davis did), i.e. he does a better job of keeping his plot together and pulling off those usual Moffat-esque surprises. It really is a brilliantly done show.
Most of the actors do a pretty fantastic job. There is the token American who is kind of pathetic, but whatever. Also, if you really enjoy dark humor, this show is definitely for you. There's a scene in Episode 2 that cracks me up just thinking about it.
The only unfortunate thing I can say about this series is that Season 2 is non-existent. It ends on a fairly decent wrap-up but I think Season 2 could have been pretty awesome. According to imdb.com, Moffat has written Season 2 but BBC refuses to make it which I find really sad because it really is an amazing show!
Hope you have time to check it out and let me know what you think!
Happy readings!
Heather
P.S. This show is available on Netflix and Amazon Prime!